GEO Radius Search 2.5 for ZOO is finally here! GEO Radius Search v2.5 is a remarkable solution for delivering dynamic geo mapping, content filtering and search navigation strategies. http://www.georadiussearch.com
Since our acquisition of the Joomlajob.de portal and ZOO Radius Search project two months ago we have been busy trying to identify how to best serve the Joomla community with new features and improved user experience for the ZOO Radius extension built for Joomla, ZOO and potentially, other 3rd party extensions. We have made great strides in the past to months bringing together the ideas from a great new team.The resuts can be seen at many levels;
The leadership of Stefan Brettschneider as program manager and Han Tran as the lead developer have allowed us to transform the code in a way that will better accomodate future development of this tool suite over time.
Our QA and Support specialist Erico Lopez have brought new ideas and better ongoing support for the user community.
Our branding specialist and creative director Fred Sarhadi have helped us evolve our identity into a fresh and inviting design.
Much thought went into coming up with unified name that better reflects and strengthens our identity while opening the door for future development. To accomodate this we have changed the name to GEO Radius Search (Formerly ZOO Radius Search found on joomlajob.de) and centralized the core portal and content on a new domain; www.georadoussearch.com
Our development process has evolved to use the github system so we can better collaborate on development and offer more flexability for custom cleitn development off of our base code.
Our support system is not managed over at www.getjoomlasupport.com so we can best track and manage support requests from our entire team.
We have consolidated code from several custom client projects adding over 15 new features. This not only offeres them back to everyone but also reduces maintinance costs for several of our existing clients.
Feature Highlights
If you are a current ZOO Radius customer or new to our GEO Radius Search extension, the most noticable change will be that we have added the capability to Publish and Subscribe modules. You can now configure a Map module or Filter Module and have them display in a Results module. You can have multiple filters associated with on or more results modules accessing them from the same menu ites thus creating dashboards for sorting large collections of content. This new approach allows you much more flexability in leveraging layout positions in your temaplates for unlimited design options. To view a live demo of this feature go http://georadiussearch.com/geo-radius-search/publish-subscribe-feature.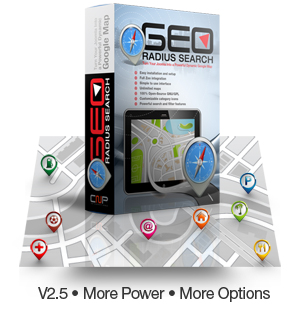 Another notable feature is the ability to display your results in a paginated responsive grid. This makes it so much better looking right out of the box and if you wish to configure the CSS you can do amazing things with your design.
One of the biggest challenges for us was adding the capability for multiple catagory selection in the filter and search engine. This capability was tested and implimented successfully for an enterprise level client where they have over 600 thousand ZOO items to be sorted.
Over the past few months supporting many hosting providers around the world we discoverd that some ISP's by nature of their configurations do not respond consistantly with Google. Perhaps thans to spamers and hackers but either way we wanted to make sure we cold offer a solution for all of our customers regardless of where they host. To do this we added the ability to chose which api you want to use so even though you will be using the google map you can search coordinace through Mapquest (US Only) or other services. Sometimes you might need our support team to assist you in these cases so we have also added an installation support option to make sure you can be successful with creatng dynamic maps with Radius Search.
For a full list of features and online demo visit: http://www.georadiussearch.com

We thank you for your business and hope you will enjoy the many new features and enhancments our latest release of GEO Radius Search for ZOO extension.