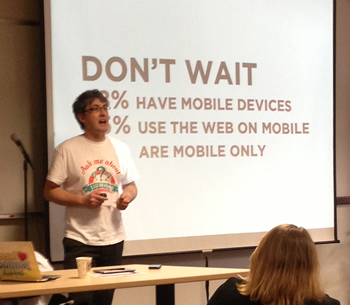 This past Saturday in Brattleboro VT about 80 plus Joomla junkies came together to learn inside tips and tricks on improving their skills and upping their game with the Joomla platform. Three unique learning tracks from some of the most knowledgeable Joomla developers and some humorous interludes kept the crowd entertained and with plenty of "ahhh haaa" moments.
CNP Integrations was a sponsor of the event so I wanted to make sure I made it again this year. The highlight for me was Brian Teeman's showcase and cool feature review of the JCE Editor. Every one of the folks that attended agreed that they learned something new about this ever so popular Joomla extension and the developer was online with us via a live Skype stream. Check it out here: http://www.joomlacontenteditor.net/
I personally stuck around for the responsive template sessions and found them very informative. Brian, Matt and Andrea all had great information to share. I learned some cool knowledge bits that I can use for building custom responsive templates and how the addition of Bootstrap and LESS to the joomla framework have given even more power and control to both designers and developers alike.
I also got to sneek away from the responsive design track to see part of David Hurley showcase his new CRM system for Joomla www.crmery.com. I just recently installed this to see if it would be a viable replacement for the CRM we just discontinues and I have to say I have been very impressed. There are some new features discussed briefly that when they get released will make this a perfect solution for tracking our sales opportunities and managing new customer relationships. So far I have been pretty happy with Active Collab but they have a new release of JForce coming out early June that might have a very convincing case for change since it integrates nicely with the CRMery solutions.
Elin Warring was able to showcase the new tags feature coming out today in the latest Joomla 3.1 release. I must say this is really going to have a significant impact on how folks decide to organize and manage their content with Joomla moving forward.

The event management team really does a great job on this event and it goes on so smooth you wonder where the day went when it is over. One of my favorite parts of Joomla Day events is the after events where you meet and network with new friends from around the world. Often they are folks you have been talking to in cyber space and chat rooms, so putting a face to the online personalities reinforce how and why being part of such a unique community means so much. This time about 25 of us went out to a local Chinese/Japanese restaurant and in addition to some great conversations the Susi was wonderful.
I now have a new bunch of friends that I can say "Hey we did sushi together... ".
See what you missed by going to the event web site: http://www.joomladaynewengland.org
Joomla Days are a great way to connect with the community, learn more about what is going on in the development circles of the software and gain valuable tips on how to create better results using Joomla. So far there are announcements for a few more Joomla Day events planned this year and I bet there will be even more that pop up in the coming months. Keep your eye on this link for current events: http://events.joomla.org/all-events/21-joomla-days.html