Whether you see yourself as an enthusiastic Pinterest user or just want to attract the growing user base of Pinterest to your Joomla website, you can do several things to make your website more Pinterest friendly.
Add Photos and Videos To Pages On Your Site
A web page can only be pinned when it has an image or video on it so make sure your most interesting or visited pages on your site have images.
For extra credit, make the images themselves interesting. Infographics, recipes, and diagrams are popular to share because the picture itself makes people value the information. Here's what you see when you click the 'Pin It' button on the CNP Integrations homepage: multiple images you can pin from the website.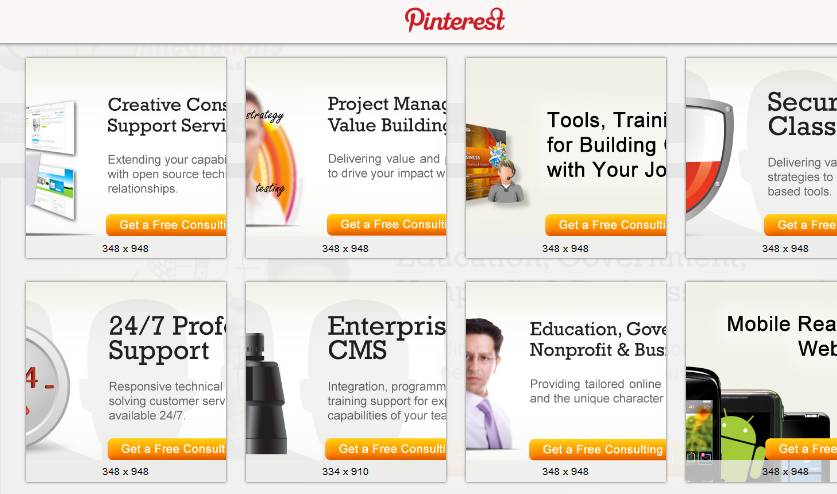 Add Pinterest Icon To Your Website


Just like your Facebook, Twitter and other social media icons, your Pinterest icon lets your website visitors know you are participating in this network. Usually these icons are in the sidebar of a website. People click on the icon and are taken to your account on Pinterest.
To make the Pinterest icon that links to your Pinterest account display on your website, check out the Pinterest Follow Me Module or Follow Me On Pinterest.

Add the Pin It Button To Your Article/Page

Most Pinterest users have the 'Pin It' button installed in their web browser of their computer for easy sharing but adding a 'Pin It' button to the content on your website will make sharing even easier. When this button is clicked, the user will be encouraged to share your website page on their Pinterest profile.

To add this to an article or K2 item in Joomla try CN Pinterest or Pin-it Button.

Display Your Pins In A Module

If you want to show some of the content you are sharing on Pinterest on your website, opt to display the latest 3 (or 5, or 20) pins on your site letting your website visitors see examples of what they can look forward to seeing if they follow you on Pinterest.

To show some of the content you are sharing on Pinterest to your website visitors try Pinterest Pins Display or Pinterest Showcase

Whether you want to have a more engaging website or want to actively use the network to drive traffic and sales to your brand, leveraging Pinterest is a great thing to do. The CNP Integrations team is happy to help you incorporate these elements into your Joomla site so let us know if you need help. Happy pinning!