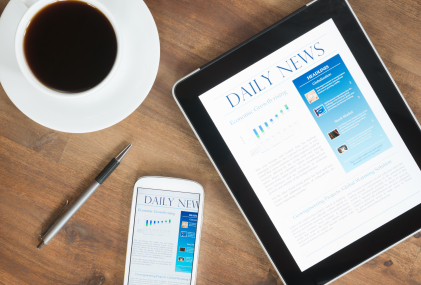 Manufacturers of smartphone and tablet computers are improving design and function of their products to better reach customers. A recently well publicized example of this was Apple who debuted the new iPad available in several screen sizes. Google has also recently showed their Nexus series with three different screen sizes. Each new upgrade means web designers are optimizing for many more possible screen sizes and formats. These changes can cost businesses money as they try to keep up.
Want to avoid this constant change by developing a website that works for most any possibility? There is a possible solution.
Responsive design is a new approach to website design that makes sure your website looks great and functions beautifully no matter how people are viewing it.
While responsive design sounds like something only internet geeks care about, it's important to think if choosing a responsive design website is right for your company or non-profit as you go through a website design or redesign. Here are a few basics because the approach to a responsive site is a bit different than a traditional website:
Responsive design means designers will need the content up front.
Because your web designer is going to prioritize certain content on different screen sizes, it's helpful to have the content as the design work begins, or at least the headings for what will go in different spaces. Ideally, a client would have storyboarded content showing what they want displayed on different screen sizes. If this isn't possible for your team, knowing the building blocks to work with (store hours, store locations, product list, etc.) means the responsive design can be laid out based on your website's goals.
Responsive design means you'll need to prioritize.
You know how you can't put everything on your homepage? That's particularly true when your home page becomes the width of an iPhone. If a story board of website layouts doesn't work for you, having a list of content and ranking it in order of importance for full size site, mid-size (tablet), and mobile phone is helpful to the designer making decisions. For example, directions might be low priority on the full size version on the site but very important on mobile size. The more explicit you are, the better a 'first draft' from your designer can be.
Responsive design templates save designers time and you money.
Rockettheme , Yootheme , and other template companies are offering website designers responsive themes to work with. In using these themes, you end up paying a web designer to customize them to your business instead of paying for your designer to create them from the ground up. Reinvent the wheel? Not when we don't have to. This keeps this new technology less expensive for you.
Responsive design means an investment in the future.
Is responsive design more work than a regular design for your web designer, even with the templates above? Yes. Does that mean it costs more to create? Yes. But investing in a responsive design means you won't have to worry what device your customer is using to view your site. Less website redesigning means your company will save money over time and also have the opportunity to serve increasingly diverse customers.
Responsive design is the new future of web design and whether you want to embrace it now or wait until your next redesign, it's important to understand how and why it's a different approach. Other ways to reach your mobile customers may be to develop a separate mobile site or application. It's best to look at who your customers and your online business goals to see if responsive design is right for you.