My Puget Sound Community Portal System Project Overview:
Showcased at Joomla Day Chicago 2012 and the Joomla World Conference 2012
Client: State of Washington - Puget Sound Partnership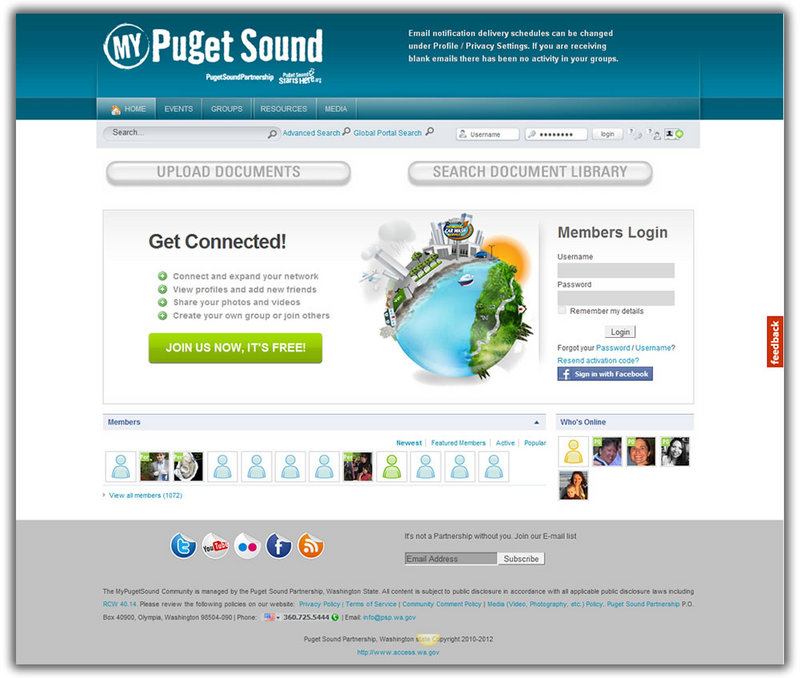 Technology: Joomla! CMS, ProjectFork, JomSocial, DocMan, Mosets tree, SOBI2, Kunena, Seyret Video Pro, Wiki w/bridge
Status: Delivered and supported under 3 yr contract - no longer supported
Web URL:www.mypugetsound.net
Description: The mypugetsound.net portal is a feature rich community portal designed to streamline communications between over 300 partners and thousands of individuals and organizations throughout the Puget Sound region in Washington State. This unique communication system offers numerous collections of content for distinct audiences within this niche community of organizations, counties, neighborhoods and environmental enthusiasts. The tools within the system were modeled after many of the popular social media sites such as Facebook, Linkedin or youtube and integrate with many of these external sites as well for a best of bread solution. Users are segmented by profiles and can freely exchange information with others in the community. Content repositories, activity forums and groups are managed and moderated yet the system is designed to encourage and inspire participation.
Since May of 2010 CNP Integrations has worked with the Puget Sound Partnership and the State of Washington to provided support in the following areas: consulting, creative design, technical expertise, custom programming and training, content development and customer service support for the www.mypugetsound.net community portal system.
Extending the Joomla! CMS Platform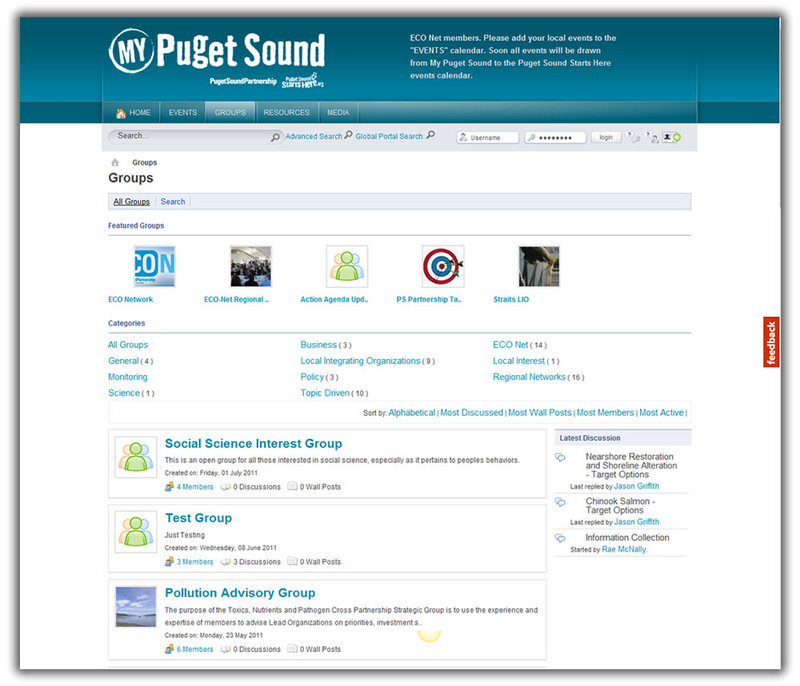 The mypugetsound.net community portal was built using the Joomla! CMS open source platform. In addition to the core Joomla framework this portal leverages many 3rd party extensions. Some of which were purchased and others were available at no cost. The CNP Integrations team built custom extensions and modified many installed components to accommodate unique features for this community portal. Some of the custom developed extensions where developed as bundled code while others are code changed reflected in articulate change logs. Change logs were broken down into separate documents and were managed in a version control system throughout the duration of the project.
CNP Integrations' coding approach was always focused on keeping long term maintenance in mind and articulate information was provided for efficiently executing future upgrades and maintenance.
Training Support and Content development
In addition to custom coding and technical expertise for the Joomla platform CNP Integrations provided extensive training and mentoring to the Puget Sound staff. We conducted regular weekly meetings, online training sessions and email updates as to the status of tasking directed by the assigned project managers and team leadership.
Training Resources
We populated an integrated wiki with training content specific to Joomla.
We installed and configured an LMS and created numerous training tutorial videos
Intro videos were produced to guide new users through their experience on the system
Project Management & Accountability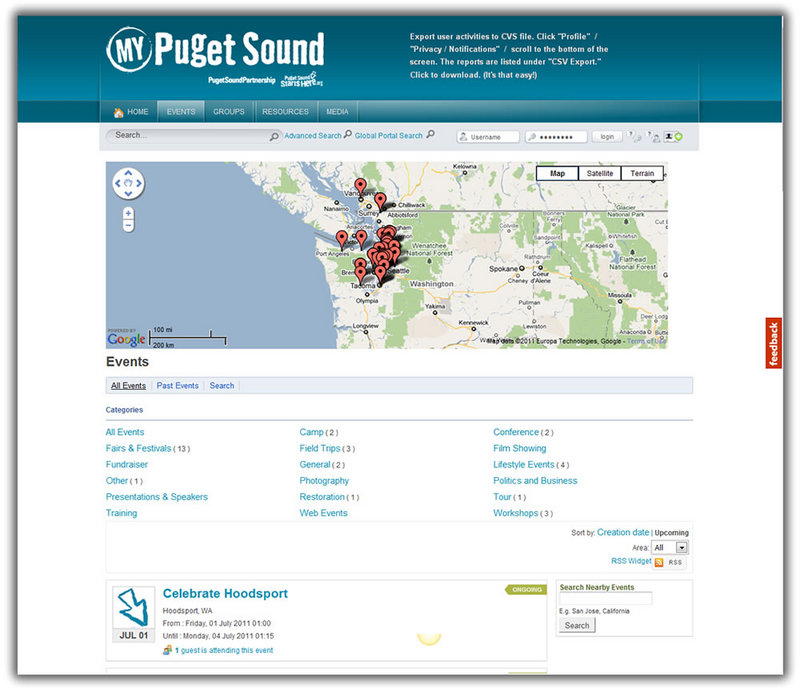 The CNP Integrations team maintained a transparent cordial relationship with the Puget Staff while providing sound and cost saving advice. In addition documentation regarding project status, account information, upgrades and line item tasking was accurately maintained and always accessible. The CNP Team was responsive to support requests and provided the best possible customer service often under short timelines and pressing deadlines. Key features and integrations executed with this system.
Core features:
Document and media sharing, moderation and management
Content, articles and blog management
RSS feed syndication
Social media integrations, walls, sharing, likes, favorites and more.
Friends, groups and project management
Public and private and registered event management
Emails, newsletters and other communication tools
Analytics, reporting and security monitoring
Advanced feature implementations by CNP:
Custom Document management components with favorite's management
Custom advanced search features that crossed component boundaries and leveraged advanced search algorithms.
Seamless Bridged functionality between the JomSocial Community extensions and the ProjectFork Project management system
Enhanced event management, custom RSS feeds, Calendar widget for external site integrations
Custom GEO mapping modules for extracting data to google map displays
Enhanced language files for mapping use case to appropriate taxonomy
Advanced email notification system for increased user interaction and communications
Extended email and group user management tools
Enhanced administration user interfaces for streamlined system administration and moderation
Custom template and graphics development
Custom integrations with external social media portals and external systems
Custom resource management tools for video, images and other targeted data repositories
Custom data export tools for reporting to state and local authorities