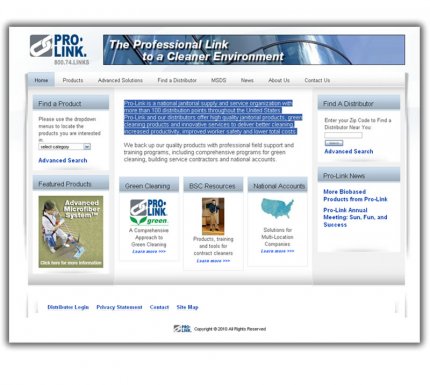 DESCRIPTION: Pro-Link is a national janitorial supply and service organization with more than 100 distribution points throughout the United States. Pro-Link and our distributors offer high quality janitorial products, green cleaning products and innovative services to deliver better cleaning, increased productivity, improved worker safety and lower total costs. CNP build a public and membership portal system that integrates with several legacy systems and large product data bases and learning management systems. Our team helped bridge to complex systems and integrate a custom member ID driven content access and authentication system. CNP Built several custom components and code enhancements to other Joomla popular extensions.
TECHNOLOGY: Joomla CMS - LMS Authentication and Synchronization Integration with Ready Go, External Database systems and custom components.
CLIENT: Prolink Inc.
STATUS: Delivered - Ongoing Support and Hosting
WEB: www.prolinkhq.com
CLIENT TESTIMONIAL: "CNP delivered a complex integration of Joomla that bridged legacy systems and empowers Prolink distributors with access to segmented and authorized content"