Details

Written by

Chris Nielsen
Leadership in an open source community; what does it mean and how can you check and balance within a fluid ever changing passionate volunteer environment?
Recently at the Joomla World Conference I had the privilege to listen to a presentation from Matt Mullenweg, a co-founder and leader in the WordPress movement, on their journey in building their open source community. Their success and story is quite similar and inspiring. Interacting with so many folks over the three days of the conference (http://conference.joomla.org) and seeing the similarities within these two diverse communities made me ask many questions around what is and should encompass leadership within volunteer driven communities.
The Four Freedoms
Several of the points made in Matt's presentation were around "The Four Freedoms" and it is important for new comers and veterans to remind ourselves that we need to keep them as the backdrop and guidance on our journey interacting within the communities that we chose to associate ourselves with or become involved in.
A program is free software if the program's users have the four essential freedoms:
· The freedom to run the program, for any purpose (freedom 0).
· The freedom to study how the program works, and change it so it does your computing as you wish (freedom 1). Access to the source code is a precondition for this.
· The freedom to redistribute copies so you can help your neighbor (freedom 2).
· The freedom to distribute copies of your modified versions to others (freedom 3). By doing this you can give the whole community a chance to benefit from your changes. Access to the source code is a precondition for this.
http://www.gnu.org/philosophy/free-sw.html
The Art of Community
For guidance I am enjoying a great book right now called "The Art of community". There is even a conference held every year for leaders in like-minded communities to share ideas and gather insights.
http://www.communityleadershipsummit.com/
So far I have noticed one of the things that comes to the forefront in every community as it evolves, especially volunteer driven communities, is the power struggles and personality conflicts. This can have a profound impact on moral and pace or process in which things can get accomplished. It can also divide your community into rival factions as was in part the case when Joomla broke off of the Mambo project. I think there are three key factors that need to be in place to maneuver around this gracefully.
1. Be able to stay focused on the mission and when things get out of hand bring everyone back on target and with enthusiasm (sometimes easier said than done). This means everyone at every level needs to dedicate themselves to bringing the focus back to a clear mission and purpose.
2. Leadership has to be aggressive in a way parallel to a pastor with a parish. Where they continue to nurture the spiritual health of the congregation. Whether it is an individual or teams or teams of teams every level of the leadership has to always be thinking of mending the conflicts and encouraging more participation around the central principles and mission. They need to go out of their way to be selfless and to thank the contributors regardless of how small the contribution.
3. I think a key element for maintaining "spark" in any community is to first attract the right talent in the right areas and then inspire them to participate. From there if the community is to grow you need to keep them inspired and challenged with the potential of even greater possibilities. Directing talent and enthusiasm into the areas of the project where individuals can get the greatest satisfaction and experience can bolster participation and a stronger healthier organization over a longer period of time.
Be Your Best and Always Try to do Better
At the end of the day when you take part in a community there is give and take and you have to be willing to always "be" or do your best, strive to get better, learn from your mistakes and to show the greatest level of respect and compassion for others.
It is ok to disagree because there is often sometimes an over democratic process. One has to try to not let the inner struggles of problem solving in this type of environment overwhelm you with frustration or even at times anger. This can often be the case when you have passionate opinionated people with different skills and approaches or backgrounds collaborating.
In an ever personal and high passion volunteer environment we are all bound to step on someone's toes or bum someone out at some point. There is an old saying. "The only way to have a friend is to be one." Sometimes we need to be uplifted by others and sometimes we need to give pep talks to encourage those around us when they become discouraged. That is how we can achieve great things as a community, by being there for each other. In a community we are all fiends trying to achieve common goals, be it for personal or business reasons. Let us never lose our excitement for these goals. I think this care and compassion for each other and passion for a common purpose is at the core of how any community thrives. On top of that we should have a good time doing so. We should never take the fun out of sharing in these experiences while making the world a better place.
I am passionate about Joomla and the open source movement in general. So to my original question, it would be my hope that leadership responsibility comes from all of us and from this place it should trickle from the "core across" as well as the bottom up or top down. "Know your place, know your stuff and be a mentor to those around you."
Details

Written by

Chris Nielsen

We are happy to announce the release of our new GEO Radius Search 2.5.1

With so many pending deadlines and urgency from clients we ended up pushing out our GEO Radius Search 2.5.0 release in a bit of haste and were not able to fully test this as we would have liked. This meant there were a couple unexpected bugs that unfortunately were found by you our customers (Something we prefer not to happen).
Then on top of this Joomla 3.2 came out and it added additional complexity to just adding a quick fix to bugs or issues we found. We are truly sorry this happened and appreciate your patience. However this is really coming together as a powerful engine for Radius Search.
One of the big challenges we discovered with our name change (lables and variables) and rebranding was that the code changes in the new version or GEO Radius Search did not give our customers a clean migration path from ZOOradius to GEO Radius Search. This forced us to release an interim zooradius package with some of the new feature requests we pushed out in the new GEO Radius Search. We will not be supporting the zooradius version moving forward but we will be making this migration script one of our top priorities in the coming weeks to allow for smooth transitions on site upgrades and migrations. We apologize for any inconvenience this may have caused.
Version 2.5.1 supports Joomla 2.5 through the latest Joomla 3.2, we fixed all known bugs and added features to support a recent client request. See the list below for highlights.
We want to thank you for your patience and now with this behind us we can focus support for using radius search with JomSocial and perhaps other community related or event driven tools.
GEO Radius Search 2.5.1 Release
http://www.georadiussearch.com
New Features in 2.5.1:
New drag and drop ordering feature for Zoo categories, with subcategory indenting support
Supports Joomla! 3.2
Improved Usability for faster map creation Supports Joomla Auto Update feature
Improved units of measure support for yards and meters
Bug fixes:
Map cache clears with system cache clean
Fixed missing file when installing from Chrome issue
Fixed bug in show category filter
Fixed Strict Standard warnings on PHP 5.4 +
Fixed Deprecated warnings on PHP 5.4 +
Fixed Text Marker Positioning
Fixed Server error on loading Zoo category and items
Fixed incorrect paths for CSS files
What's Next? GEO Radius Search 3.x Roadmap:
Integration with JomSocial Events and User Locations
Upgrade Migration path for zooradius installs
Consideration of Integration with Easy Social platform
Consideration of integration with Zoolanders events
We are always open to your ideas and suggestions for features and direction on what will server your needs most. Please do not hesitate to contact us with your thoughts or feature requests.
Please post all support or feature requests on our support portal: http://www.getjoomlasupport.com
Sincerely,
The GEO Team at CNP Integrations
Details

Written by

Chris Nielsen

GEO Radius Search 2.5 for ZOO is finally here! GEO Radius Search v2.5 is a remarkable solution for delivering dynamic geo mapping, content filtering and search navigation strategies. http://www.georadiussearch.com
Since our acquisition of the Joomlajob.de portal and ZOO Radius Search project two months ago we have been busy trying to identify how to best serve the Joomla community with new features and improved user experience for the ZOO Radius extension built for Joomla, ZOO and potentially, other 3rd party extensions. We have made great strides in the past to months bringing together the ideas from a great new team.The resuts can be seen at many levels;
The leadership of Stefan Brettschneider as program manager and Han Tran as the lead developer have allowed us to transform the code in a way that will better accomodate future development of this tool suite over time.
Our QA and Support specialist Erico Lopez have brought new ideas and better ongoing support for the user community.
Our branding specialist and creative director Fred Sarhadi have helped us evolve our identity into a fresh and inviting design.
Much thought went into coming up with unified name that better reflects and strengthens our identity while opening the door for future development. To accomodate this we have changed the name to GEO Radius Search (Formerly ZOO Radius Search found on joomlajob.de) and centralized the core portal and content on a new domain; www.georadoussearch.com
Our development process has evolved to use the github system so we can better collaborate on development and offer more flexability for custom cleitn development off of our base code.
Our support system is not managed over at www.getjoomlasupport.com so we can best track and manage support requests from our entire team.
We have consolidated code from several custom client projects adding over 15 new features. This not only offeres them back to everyone but also reduces maintinance costs for several of our existing clients.
Feature Highlights
If you are a current ZOO Radius customer or new to our GEO Radius Search extension, the most noticable change will be that we have added the capability to Publish and Subscribe modules. You can now configure a Map module or Filter Module and have them display in a Results module. You can have multiple filters associated with on or more results modules accessing them from the same menu ites thus creating dashboards for sorting large collections of content. This new approach allows you much more flexability in leveraging layout positions in your temaplates for unlimited design options. To view a live demo of this feature go http://georadiussearch.com/geo-radius-search/publish-subscribe-feature.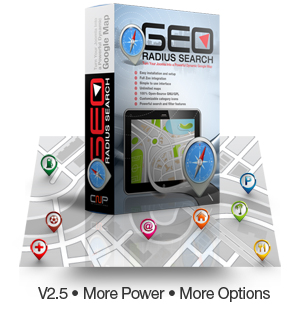 Another notable feature is the ability to display your results in a paginated responsive grid. This makes it so much better looking right out of the box and if you wish to configure the CSS you can do amazing things with your design.
One of the biggest challenges for us was adding the capability for multiple catagory selection in the filter and search engine. This capability was tested and implimented successfully for an enterprise level client where they have over 600 thousand ZOO items to be sorted.
Over the past few months supporting many hosting providers around the world we discoverd that some ISP's by nature of their configurations do not respond consistantly with Google. Perhaps thans to spamers and hackers but either way we wanted to make sure we cold offer a solution for all of our customers regardless of where they host. To do this we added the ability to chose which api you want to use so even though you will be using the google map you can search coordinace through Mapquest (US Only) or other services. Sometimes you might need our support team to assist you in these cases so we have also added an installation support option to make sure you can be successful with creatng dynamic maps with Radius Search.
For a full list of features and online demo visit: http://www.georadiussearch.com

We thank you for your business and hope you will enjoy the many new features and enhancments our latest release of GEO Radius Search for ZOO extension.
Details

Written by

Chris Nielsen

Joomla! has yet another birthday - 8 Years with happiness in the millions.

If you already use Joomla, you know how powerful, cost effective and flexible it is for delivering content online. However, if your new or on the fence it is time to take notice and get excited because Joomla is really growing up and "coming of age" with their new 3.x series of the software.
Before founding CNP Integrations in 2006, I was fortunate to get involved with using Joomla just as it was being spun off of the Mambo project. It is so exciting to see how this whole Joomla community has exploded to build such fascinating technology for so many to grow their businesses and present their messages online. The passion and determination of "Joomies" around the world have come together to build more than just great software though. They have built an entire ecosystem which has become the lively hoods for so many businesses and individuals, been the inspirations of so many great web sites and attracted one of the largest communities of talented developers. This just continues to make a win win for everyone and it also keeps it fun to be part of.
Like any ecosystem that thrives there has to be a need and a demand in the marketplace. The Joomla! project has seemingly struck the right nerve in this matter to the tune of 3.3% of all web sites online with 44.9 million downloads worldwide. Note: In just the last year this marketshare stat is an increase of total web sites online from 2.8% to 3.3%. Given the fact Joomla has achieved so many successes with the entire Joomla organization as completely volunteer driven, I think makes it one of the most unique business models in the history of open source software development. Joomla remains among the top three open source CMS systems and continues to be at the core of so many great online initiatives. These are some fantastic achievements but personally having a little of an inside scoop, I can tell you there are many more groovy things on the way from this bunch.
We are proud to be a part of the Joomla movement and thankful for the opportunities that it has brought our company as well as the great friendships and relationships we have built with so many throughout the Joomla community. This info-graphic is our small gift to Joomla! as it celebrates 8 years of innovation and resilience in a highly competitive marketplace. We hope you will share this and tell the world how great it is to be a part of something that is changing lives, fueling businesses and making a difference in the world for so many.
On behalf of our entire CNP Integrations team we wish Joomla! a Happy B Day, give a big shout out to all our friends and thanks to our many great customers for using Joomla! We are here because of you.
Click on the flag to see the Portuguese lamguage version:
Joomla 8 Years inforgraphic in Portuguese

To get a PDS for translation into other languages email us and we will send it to you. This email address is being protected from spambots. You need JavaScript enabled to view it.